Italian Restaurants In Southern Oregon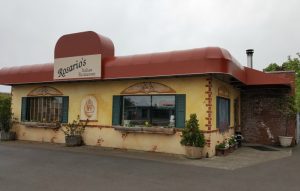 When Laura and Mike Hogan took over the ownership of Rosario's Italian Restaurant, they brought something to it, authentic recipes and an unyielding commitment to excellence. Together Mike and Laura have made Rosario's a place that's more than just a cut above the rest. During the years the lived in the Bay Area, Mike worked in the high-tech industry and Laura was an RN, but dreamed of someday having their own restaurant. When they moved back to Medford in 2001 to be near their family, the opportunity to run Rosario's seemed like the natural fulfillment of that dream. Laura is Italian and when she needs a new recipe she gets it from her family back in Italy. Hospitality is another Italian tradition embodied in Rosario's, where anybody and everybody is welcome to stop by and try the deli sandwiches, pasta dishes, calzones and unbeatable wood-fired pizzas. Tiramisu and other unique Italian desserts top off the menu, and everything from the bread to the sauces is made fresh, from scratch. With an extensive wine list featuring some of Southern Oregon and Italy's finest. Rosario's was established in 1975 as a small deli and has grown into one Southern Oregon's best restaurants.
Rosarios Italian Restaurant has been serving the Rogue Valley great Italian cuisine since the early 1970's. It was originally started by the Bonfiglio family and later taken over by Mike and Laura Hogan. The Hogans expanded the operation and increased it's seating capacity and also added a great outdoor patio area. The restaurant has grown in popularity over the years but one thing remains constant. Amazing Italian food and friendly service. We've won multiple awards and have received the prestigious Readers choice award from the Medford mail Tribune 2011, 2012, 2013 and 2014. We won't stop there though, our goal is to give you an amazing selection of pastas and salad that will wow your senses. Don't even think about going anywhere else if you need an event catered. Catering services is our middle name and we have plenty of referrals and references from happy customers throughout the valley.
Rosarios Italian Restaurant is proud to be the winner of the Medford Mail Tribunes Readers Choice award 2011, 2012, 2013 and 2014. Come in and dine with us or order out.
Call Now 541-773-2230